Recent Posts
Damian share his journey at the BJO 2020. After getting a last-minute slot and seeded last (who cares). Damian finished 37th. We hope this will inspire more Middlesex Juniors to take part next year.
All Middlesex Junior coaching, squad training and activities are cancelled until further notice.
On 15th December the Cumberland club hosted its first ever bronze sanctioned Junior Squash Open event. Over 80 kids entered in a day packed with competitive matches. Special congratulations to all our Middlesex players who participated and brought home a trophy, including: Ameerah Elgarhy, GU17 …
A huge congratulations to Middlesex and Cumberland junior player Mira Bhattacharjee for winning the England Squash Christmas Card Design. The event was judged by James Willstrop who said…. "There were some great artistic contributions to the competition – well done everybody on some real creativity! …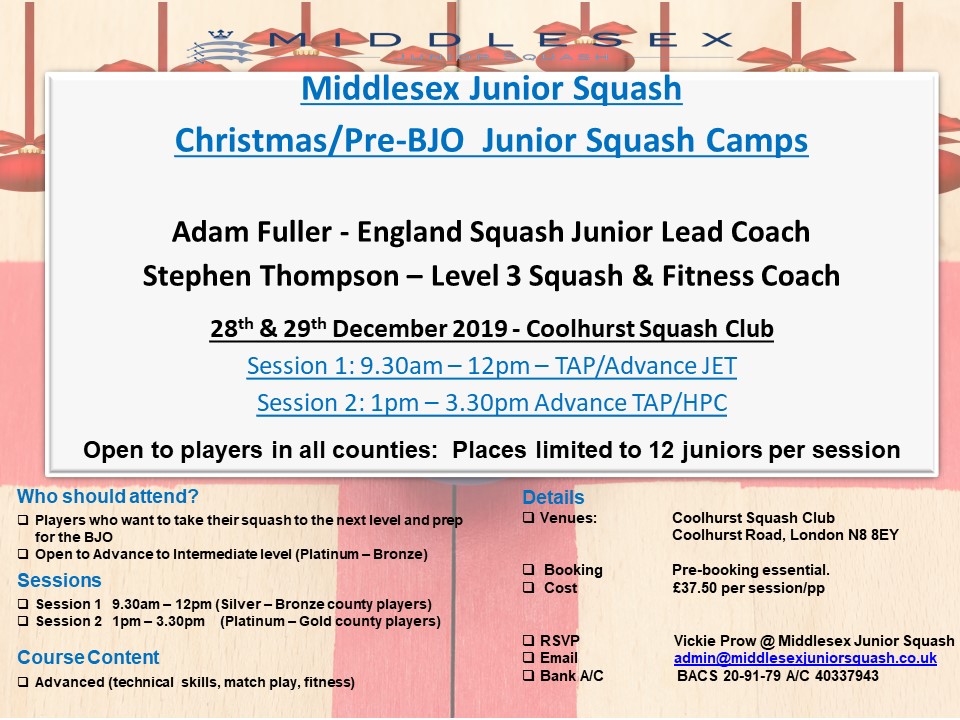 Sessions by Adam Fuller & Stephen Thompson.
28th & 29th December at Coolhurst Squash Club.
Open to players in all counties.
After 4 days of intense competition at one of the biggest stages, 22 Middlesex Juniors competed with the nations best squash players Key Headlines BJC winner of Girls Under 13- Tala Abaza Top 10 positions for Mohammed Abaza 3rd BU11, James Carman 4th BU15, …